Australian Touring Car Challenge
Wakefield Park
22nd - 23rd April 2006
This was my first race meeting in Australia, my first at Wakefield Park, my first in a Touring Car and first time in a front wheel drive car. The Australian Touring Car Challenge series allows former Touring Cars (eg this ex-Andy Rouse British Touring Cars Championship) and Australian V8 Supercars to compete against one another. I was driving the Mondeo Super Tourer prepared and run by Mumbo Racing.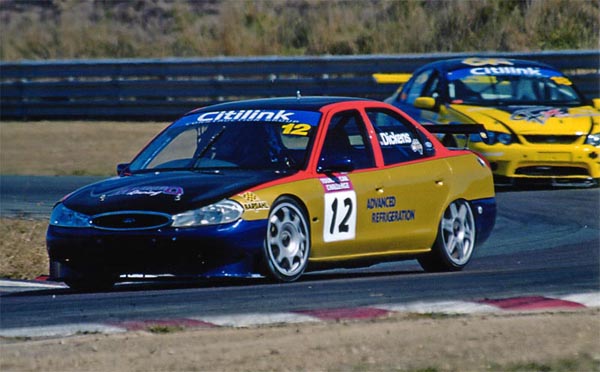 My races had entrants in both the 2000cc Cosworth engined V6 British Touring Cars and also 5000cc Australian V8 Supercars classes. The BTCC cars were much better in the corners and under braking, but the 5 litre V8s were much faster on the straights.
The car was pretty difficult to drive, especially as it wasn't on new tyres - there was also a lot going on in the cockpit, eg front and rear sway bar controllers and a X-trac sequential gearbox.
Qualifying
I qualified 15th from 20 in the first qualifying, then 11th in the 2nd qualifying.
Race 1, I had a great start, made up 2 places on rear wheel drive cars, (which is unheard of, you usually lose 5 places to RWD cars) but then went backwards after a safety car period and ended up finishing 14th, 4th in class.
Race 2 went a bit better, but the car understeered horribly throughout. I finished 11th overall, 2nd in class. We found out afterwards that one of the sway bars was broken, causing the understeer.
Race 3 went well, I was in the top 2 cars in my class for 7 of the 12 laps, then my front tyres went off completely and I had to slow down by 3 secs a lap. I couldn't get round any corners and braking efficiency was greatly reduced, so I lost 5 places in the last 2 laps, finishing 11th overall and 3rd in class.
Understeer problem demonstrated graphically...
Overall, after a 9 month absence from the cockpit, I wasn't too impressed with my performance, finding the bumpy Wakefield Park track difficult to learn quickly in a strange car. With new tyres and another visit, I estimate I would be able to bring times down from a 1:08 to a 1:06 lap.
I was interviewed on camera by the TV presenter in between race 2 and race 3.
The race is shown on TV on Sunday 30th April at 12.00 on SBS Speedweek at noon and Wednesday 3rd May on Fox pay TV Inside Speed at 20.30.